The first player featured by the Fred Gunkle Fan Club is George VanHaltren. He was a pitcher and outfielder during the late 1800s and early 1900s. His career totals are shown below as found at www.Baseball-Reference.com and are posted with permission from Baseball-Reference.com.VanHaltren careers numbers of 2547 hits fall short of the 3000 hits that are considered "the ticket" to Cooperstown. It should be pointed out that VanHaltren played 3 seasons as a pitcher, which certainly reduced his total hit count by about 300. It should also be pointed out that most of the seasons played in the late 1800s consisted of only 140 games, not 154 or 162 as became common later. Adding 10% to the totals and making allowance for 3 years as a pitcher, his career totals, if he played today would certainly total 3100 hits. His career BA is .318, and his career OBA is .387, both very respectable numbers. He did not hit many home runs, but neither did anyone else of that era. He did score 1639 runs, which is 28th all-time. He is the highest ranked player on the Hall of Fame Monitor who is not in the Hall of Fame and is ranked higher than more than 40 players who are in the Hall of Fame. George VanHaltren is certainly one of the overlooked players of history.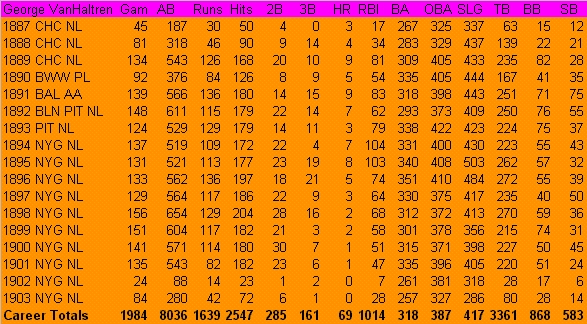 The 2nd featured player for the the Fred Gunkle Fan Club is Ken Williams. Williams is one of only 2 players in the history of baseball to record 5 POP seasons and not be admitted to the Baseball Hall of Fame. A POP season is a year in which a player has a BA of over .300, an OBA of over .400, and a SLG of over .500. To be a POP (Perfect Offensive Player), a player must be a good hitter, have a good eye for the strike zone, and hit with power. Williams won the Home Run title and RBI title in 1922, beating Babe Ruth. The following chart of POP Award winners is from data at POPAward.com It is used with permission and may verified at that site.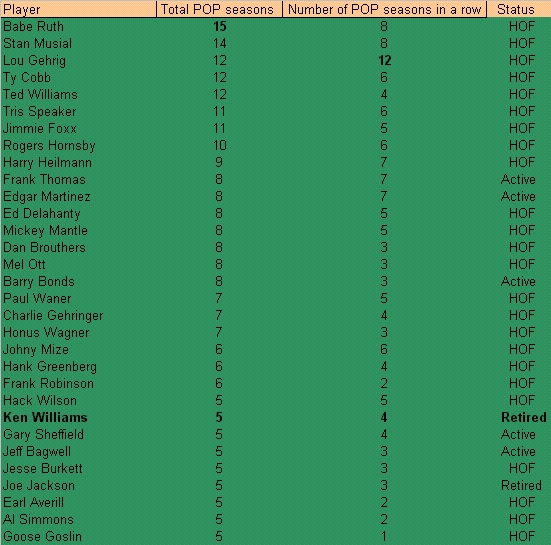 You can see from the data that only Ken Williams and Joe Jackson, of retired players who have at least 5 POP seasons, have not been inducted into the Baseball Hall of Fame. You can also see how rare it is for any player to accumulate 5 POP seasons, only 30 players out of more than15,000. Jackson's mis-deed that banished him from the Hall of Fame is well known. The reason for Ken Williams exclusion from the Hall is a mystery. The table below shows Ken Williams' career statistics. His 5 POP seasons are in bold type. Note that Williams barely missed a POP season in 1925, and that the 1929 statistics are of POP quality but Williams had too few plate appearances that year. Williams' career numbers are just short of a POP career. The following statistics are again courtesy of Baseball-reference.com.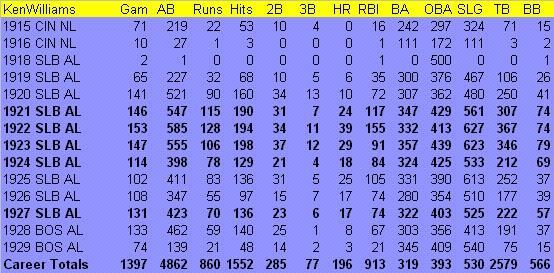 Watch for the 3rd featured player, who will be Tony Oliva. Information on Oliva should be begin being posted in about 2 weeks depending on my schedule.
This page is still under construction. It will be used to feature players who don't get much recognition. 2 names that come quickly to mind are Omar Vizquel, and Frank Thomas. Little O because they are always talking about the 3 best shortstops in the AL and they don't mean O. He is the best defensive shortstop of his time, maybe of all time. His batting average isn't that bad. He does not have a lot of power, but he is a very smart baserunner. He has been an anchor in a team that was division champ 5 times in a row. That should mean something. More on Little O later. Frank Thomas is # 5 all-time in On Base Average and combined On Base and Slugging Percentage. ONLY Ruth, Williams, and Gehrig are ahead of him on both lists. Billy Hamilton is also ahead on the On Base Average list, and Jimmie Foxx is ahead on the combined On Base and Slugging List. These numbers are from Lee Sinins. The only players ahead of Frank Thomas are consensus All World, All Time players and yet Thomas is usually overlooked. As this page expands I will add more information about these 2 and other overlooked players. A year ago I would have put Edgar Martinez on this page, but finally he seems be widely recognized for his contributions. (and I gave him his own page)