According to information at Baseball-reference.com, Edgar has led the American League 2 times in batting average, one RBI title, once in runs scored, 3 times in on-base-percentage, once in OPS (on-base +slugging), 2 times in doubles, once in grand slams, and has appeared in 7 All Star games. Edgar has won 5 Silver Slugger awards and has been named the American League Player of the Month 5 times. Edgar has been selected as the Outstanding Designated Hitter 5 times. No other player has won the DH award more than 3 times. Edgar is the only DH ever to win a batting title and holds the record for the best season batting average ever recorded by a DH, which, in a way, already puts Edgar in the Baseball Hall of Fame.
Edgar was inducted into the Hispanic Heritage Baseball Hall of Fame on September 9, 2003; I wasn't there because my wife was in the hospital, seriously ill, that night. But I was at Safeco Field on June 2, 2007, when the Seattle Mariners acknowledged Edgar's contributions to the team by inducting Edgar Martinez into the Seattle Mariner Hall of Fame. I thought the Mariners should also have retired #11, but maybe that will happen in a few years.
Edgar was the key player in the Mariners 1995 victory over the Yankees in the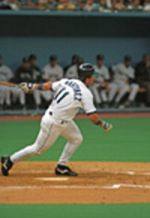 American League Divisional Series. Edgar hit 2 home runs and drove in 7 runs, including the winning run, in pivotal game 4, and drove in the winning runs in game 5 to win the series. Edgar was 12 for 21, a .571 batting average, during that series, and had 6 walks for an on-base percentage of .667 (18 times on base in 27 plate appearances). Only Barry Bonds, in the 2002 World Series, when Mike Scoscia had his pitchers walk Bonds 13 times, has a higher on-base percentage in any postseason series. Edgar's contributions defeated the Yankees and saved Major League Baseball in Seattle. SAFECO Field is the fruit of that effort; it is truly "The House That Edgar Built." The Mariners have appeared in the postseason 4 times in 8 years, 3 times reaching the American League Championship Series. Edgar Martinez is the only player who has appeared in every postseason game in Mariner history. Edgar leads all Mariners with 24 postseason RBIs.
The following chart is a comparison of Edgar Martinez and other active players to players already in the Baseball Hall of Fame. 18 Players completed their careers with 6 or more POP (Premium Offensive Player) seasons. A POP season is one in which the player has a BA over .300, OBP over .400, SLG over .500. All 18 are in the Baseball Hall of Fame. Edgar Martinez now has 7 POP seasons in a row and a total of 8 POP seasons in his career. Only 3 players have more than 7 POP seasons in a row - Lou Gehrig, Babe Ruth, and Stan Musial. The following chart shows all players, active and retired, who have achieved 6 or more POP seasons. Notice that every retired player who has 6 or more POP seasons has been inducted into the Baseball Hall of Fame. All data in the following chart is courtesy of www.popaward.com and may be verified at that site. The chart has gotten out of date, and I will see about updating it soon. (as of May 31, 2011) But, the comparisons are still valid.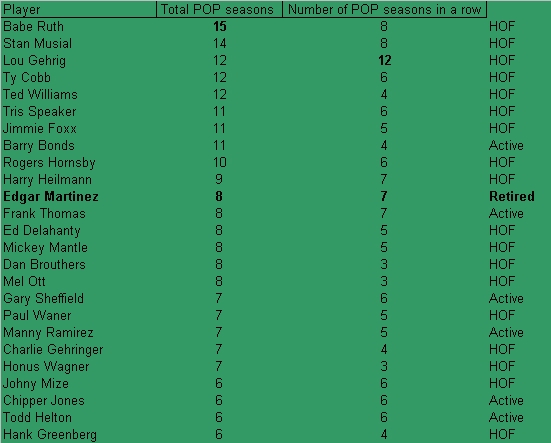 15 retired players (including Edgar Martinez) finished their careers with a BA over .300, OBP over .400, SLG over .500 (minimum 5000 plate appearances). Of those 15, 13 are in the Baseball Hall of Fame, and only Shoeless Joe Jackson and Edgar Martinez are not in the Baseball Hall of Fame. 5000 plate appearances is not an arbitrary number. It takes about 5000 plate appearances (10 seasons in the Major Leagues) to qualify for the Baseball Hall of Fame Most of the data in this chart comes from Baseball-reference.com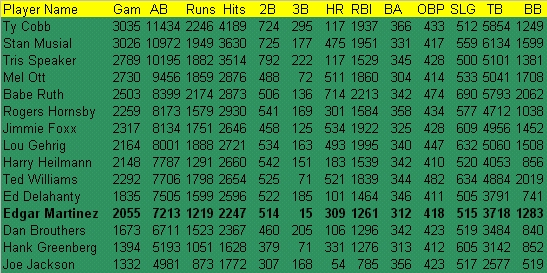 Edgar's numbers in the above table were updated at 4:00 PM, March 21, 2005.
I had intended to add another chart comparing Edgar to the other 5 players (all in the Hall of Fame) who have 500 doubles, 300 home runs, 1200 walks, .300 career BA, .400 career OBP, and .500 career SLG. But that will slow the loading of the page for modem users. The 5 are Babe Ruth, Ted Williams, Lou Gehrig, Rogers Hornsby, and Stan Musial. All 5 are in the chart above, and in Bert Chiu's graphic at the top of the page.
Arne Christensen has gathered up a stack of Edgar lore and anecdotes/trivia, and compiled into a post on his career at http://miscbaseball.wordpress.com/2009/12/01/edgar-martinez-lore/
Bruce Maigatter sent me an email of reasons why Edgar should be in the Hall of Fame. In addition to stats he includes a lot of quotes by Edgar's peers. Read this at http://www.abarim.com/bmaigatter.htm
John Pinza Todd has done some exhaustive research, showing that Edgar is one of the most successful doubles hitters of all time. John's site is located at: http://www.geocities.com/pinzatodd/doubles_eff.h
The graphic at the top of the page was designed by Bert Chiu, also know as RoundTripper in the Mariners Forum.
Robert Thomas provided 2 charts comparing comparing Edgar Martinez to some of the all-time greats.
John Furgele gives his reasons why Edgar Martinez belongs in the Baseball Hall of Fame at
http://johnny228.wordpress.com/2008/02/20/is-edgar-martinez-a-hall-of-famer/
I have begun to get notes from Edgar's fans up at www.abarim.com/edgar's_friends.htm
I hope to begin an endorsement page with the names of those who support Edgar for the Baseball Hall of Fame. On that page I want to list the names and cities of Edgar supporters. I will again contact those who have written over the last 5 or 6 years for permission to use your name. Please contact me if you don't hear from me or if you have never contacted this site.