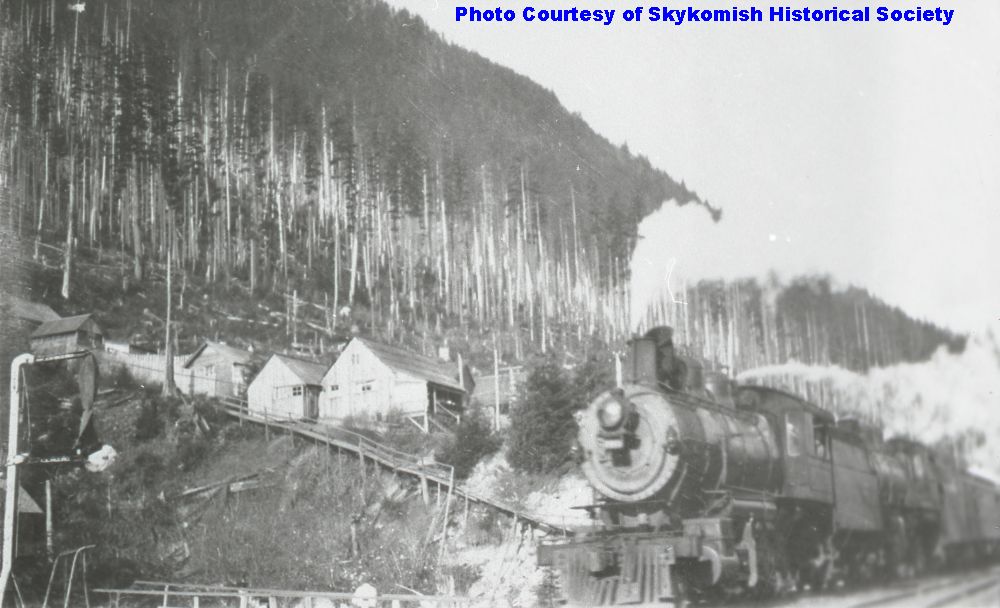 This undated photo shows a Great Northern Railway train, pulled by 2 steam engines, traveling east through Alpine, Washington. The photo shows a few of the houses where Alpine mill employees lived with their families along Carroll Creek. The water tower for the Great Northern doesn't show in this view, but it is located just behind the tender of the 2nd engine. It was that long-gone water tower and the pipeline right-of-way from high on Carroll Creek that enabled me to identify the location of the town of Alpine, Washington on King County tax records. Burlington Northern Sante Fe Railroad, the successor company to the Great Northern Railway still (as of August 7, 2009) owns the pipeline right-of-way to the location where the water tower once stood. That long-gone right-of-way and diamond shaped water resource in Carroll Creek still stand out in King County tax records. From this information I knew exactly the location of Alpine and the identity of the current property owner.
In the time of steam, engines consumed enormous amounts of water and fuel, and water towers dotted the route of the railroad. On steep uphill sections (the track past Alpine was, and still is today, one of the steepest climbs on the Great Northern/Burlington Northern Santa Fe railway network) a steam engine might use as much as 4 times the fuel and water as it would use going downhill. 100
Photo courtesy of the Skykomish Historical Society.