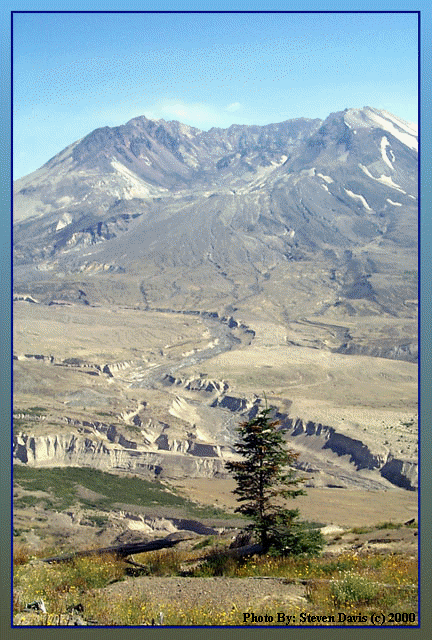 The lonely tree above sits outside the Johnston Ridge Visitor Center at Mt St Helens. It has nothing to do with Edgar Martinez except that Edgar and Mt St Helens are 2 of the best known landmarks in Washington. Steven Davis photographed the tree in August 2000. I visited the Johnston Ridge Visitor Center on August 21, 2005 and I and very happy to report that the lonely tree has grown about 5 feet taller, and now has the company of 2 smaller evergreens. The natural reforestation is beginning to take hold.
On this page are quotes from some of Edgar's Friends
The quotes are newest first. If you gave me permission to use a quote and don't find it, please let me know and I will add it to this page. I lost some of the early ones when a virus knocked out my email, followed by a server failure (it turns out our server was located in Florida and a hurricane got it) which lost the messages that had already been posted. If you are one of those early supporters, please write again.
May 30, 2012
Dear friends,
I myself am dumbfounded that Mr. Edgar Martinez has not been elected into the Baseball Hall of Fame. As your website and history has proven Edgar was an exceptional talent and even greater human being that ever played the game we all love so much. Every one of Edgar's at bats was a piece of history and art at its finest. I cannot express how much baseball needs to recognize "Edgar the Great."
Marcelino Vega
April 19, 2012
Hello,
I am not sure what all I can do but I would love to help get Edgar into the Hall of Fame, he more than deserves it. Let me know what I can do to help.
Thank you,
Bret Bullis
July 15, 2011
Here's the simple truth - the DH is a legitimate position in MLB and as such anyone excelling in the position should be considered for the Hall of Fame. He was the best DH ever (does anyone seriously dispute that?) and is there any other position where the best player is not in the Hall (well, assuming there weren't gambling or steroid issues)? The sad thing about this is that virtually nobody besides Seattle fans really understands just how valuable he was to the M's. I don't think there is a Seattle fan who doesn't see Edgar as the career MVP in Seattle. Yes, Griffey, Johnson, Rodriguez and Ichiro have had their moments and individual seasons that exceeded his, but for a career with the M's, Edgar was the best and defined the M's. If a survey of M's fans was taken and they were asked: "who would you want up to bat if you were down by three runs, bases loaded, 2 outs, ninth inning in the ALCS?" I'm confident that Edgar would win hands down! The stats speak for themselves and how many Hall of Famers are really in the Hall for thier fielding, I mean really? It is virtually always because of their hitting anyway! I say, include the fielding stats - I don't think Edgar made a fielding error in his last ten years, did he? How many Hall of Famers can make that claim! I think both he a Dale Murphy should be in the Hall - phenomenal human beings and fantastic hitters!
--
Bruce Hawks
8 William Way
Stormville, NY 12582

April 7, 2011
I have been a Baseball Fan for many years and remember when the San Francisco Giants came to San Francisco from New York. I have seen some of the best players and have met them, (too many to mention). I believe as you do that Edgar Martinez is one of the very best players that have ever played the game, I support him as a candidate for the Hall of Fame much deserving. I call him the "silent one" A class act on and off the field that's the way that I remember the all time great. Edgar did not need to say anything, he showed us all what he is and I for one will always remember him not only as a DH but as a deserving player, one that in my opinion should rank among the best of all time.
I have autographs of most of the best that ever played for my personal collection ( not for sale) and I would love to have Edgar's next to the best of players that I have. I feel certain that he will be recognized and be voted into the Hall.
I support Edgar Martinez to be inducted to the Hall of Fame.
Cordially,
Ron Bender
20 Lyme Lane
Foster City, CA 94404
April 3, 2011
Please add me to the list to support Edgar Martinez for induction into the Hall of Fame. Having watched a fair number of Mariner games Edgar, to me, was the most feared hitter in baseball. In fact I believe Edgar was a better hitter when he was behind in the count and I never saw a better 2 strike hitter in my life.

Gary Adams
Boise, Idaho
March 3, 2011
Edgar has the potential to be part of the Baseball Hall of Fame. His stats and professionalism inside and outside the park are his best letter of presentation.
Any baseball fan can see how Edgar was respected. In his last game as a player, every player; including opponent team, every expatiator and umpires gave him a a standing ovation.
Juan R. Rivera
February 16, 2011
Hi--Edgar was always my favorite Mariners player, not only because he was fantastic on the field but also a great person off the field. My husband and I and our two sons were lucky enough to be at Game 4 of the ALDS in 1995. What a thrill! I'll never forget it as long as I live! Of course Edgar should be in Cooperstown without a doubt. Thanks for the chance to put my opinion out there.
Trish Ketvirtis
Tacoma WA
December 12, 2009
Edgar Martinez Has earned the right to be in the hall of fame, not only for his great play on field which as his stats show leaves no doubt as how impressive his career was. One thing I believe that should also be taken into consideration by anyone being nominated into the hall of fame is their character. In his career Edgar has never been any thing but a great human being away from the field. Off the field he worked to better his community, he never made the papers or the national news for any misdeeds, he was and is a role model kids and adults can look up to. Never will you open the police blotter and see his name in it. In this era where all to often in the paper or on the nightly news a sports stars name shows up as to having been arrested on DUI, Drug charges or for domestic violence it is refreshing that Edgar spent his entire career here in Seattle he also has had a positive influence on all who have watched or met him. There is no one more suited for entry into the Hall of Fame than Edgar, he is more the worthy he is a true hero in this fans eyes.
Donald Ransier, and Family
December 5, 2009
Here is some more info to possibly add to convince others .

All but one MLB player that has been inducted into the World Sports Humanitarian Hall of Fame
Is ALSO in the Hall of Fame in Cooperstown.
(Dale Murphys is the only player not in both)
Players in both are
Roberto Clemente
Tony Gwynn
Harmon Killebrew
Kirby Puckett
Jackie Robinson

Edgar Was elected in 2007
Former President George H.W. Bush the Honorchair of World Sports Humanitarian Hall of Fame
http://www.sportshumanitarian.com/

EVERY Player/coach/owner that has a MLB award or Trophy named after them, is in the Hall of Fame
(EVERY one that are not sponsorships from corporations have a name of a Hall of Fame player/coach/owner)
The DH of the Year award, is the Edgar Martinez Award.....and Edgar is the ONLY player currently who has an award named after him, and is not in the Hall of Fame.

Here is the link to the information sheet the Seattle Mariners are Distributing, you can add some info to your website
http://seattletimes.nwsource.com/ABPub/2009/11/24/2010344959.pdf

Craig
September 9, 2009
Hello:
I've visited your Edgar for the Hall of Fame pages a few times. I have a website about the '95 Mariners, at http://1995mariners.com I don't really have any statistical arguments to add for the case for him as a Hall of Famer, but my project is obviously related to his career. There's one personal story from a fan on mysite that really gets to the depth of Edgar's relationship to the fans:
http://1995mariners.com/2008/09/16/what-i-remember-when-i-was-at-game-five/
thanks,
Arne Christensen
September 2, 2009
An interesting website......I am a lifelong baseball fan as you can perhaps tell by my email address (mantlefan@hotmail.com)....I have become very skeptical about the Hall of Fame voting process through the years....there are notorious omissions from the plaque wall in Cooperstown...Bert Blyleven.....Andre Dawson....Gil Hodges...Tommy John.....Jim Kaat and so on.....I firmly hope that the great Edgar will be enshrined....I believe he is a first ballot player and was not blessed to show off his skills in the East and West Coast media hotbeds....hopefully common sense will win the day....we'll see...good luck with your campaign....you know, these are a couple of off years coming up with no Ricky Henderson or Tony Gwynn coming through....
Steve Berman
August 29, 2009
I have been a Mariners fan ever since I was a little boy. But never have I been as much a Griffey fan or Ichiro fan as I have been a Martinez fan. My mother remembers 1995, I would cheer that name "Edgar!" over and over again. I had reason to! Edgar knew the game of baseball unlike any other player today.
I don't think Pujols even matches his greatness, and that's a big thing, considering so many players today use drugs to play as good as they do.
Edgar wasn't a household name for many baseball fans outside Seattle, but the teams in each league knew his name, and knew his power, and yes they were scared of him. They acknowledge him, respect him, and think just as much as anyone else that he deserves a spot in Cooperstown.
Edgar Martinez will always be my number 1 baseball hero. I look forward to his acceptance as the first Mariner in Cooperstown. You can't bar him out. He deserves it.
-Travis Linton of Arvada, Colorado.

July 7, 2009
I really have to say he does rightfully deserve a place in the Hall of Fame. One thing that you might want to include on your website is that Edgar was a pioneer. He will always be known as one of the first good DHs and when people think of the DH role they'll think of him since as of now he is the best DH of all time.
Daniel Thatcher
June 12, 2009
I want to thank you for putting up this page in support of Edgar Martinez. You are absolutely right about Edgar. Boy I remember when he was playing how year after year his name was always as the leader or among the leaders in every offensive category in baseball from April all the way through October. Just an outstanding hitter and may I add a guy who did it the right way in an era where so many cheated. You have no doubt that Edgar Martinez was 100% clean and that makes it more amazing how he stood out ofensively in every category ahead of guys who you know were cheating. Edgar Matinez was the best pure hitter of his era and many say the best pure right handed hitter in baseball since Joe Dimaggio !!!! That is saying a lot considering that Roberto Clemente, considered by many Hall of Fame baseball legends as the greatest player and best hitter they ever saw, was also a right handed hitter. Edgar Martinez should defenitely be with Clemente in the Hall of Fame in a few years.
Willo0944@aol.com

May 21, 2009
Absolutely deserving! Even if the numbers don't convince someone, they should consider this: if we're going to bar admission to the Hall of Fame of one of the highest batting averages ever (Joe Jackson), the most home runs ever (Barry Bonds), the most hits ever (Pete Rose), the first player to break Maris's season homer record (Mark McGuire), one of the best pitchers ever (Roger Clemens) and probably another of the all-time greatest (Alex Rodriguez) for being 'bad boys' shouldn't the same logic apply in reverse to one of the 'good boys'. I spent only a year in Seattle, but I saw how adored he was in the community. I watched an extra-inning afternoon game that went about 13 innings. Edgar ran from this long, hard day to serve as grand marshal of a local parade. If Edgar doesn't get into the Hall of Fame, whatever small amount of luster that remains on the institution will be blown away. Congratulations on your work supporting Edgar.

Ken Schwartz
April 27, 2009
I think this is the year he becomes eligible. I heard a broadcast not long ago by I think Jim Moore who is trying to promote Edgar, but he was saying that he didn't think the NL writers would give him much support. I never thought Edgar would be a first ballot hall of famer, just not enough total hits and it will take some time for the NL sports writer who never watched his career to realize he was arguably the best right handed hitter of his generation. Some though have stated they will never vote for him because he spent the majority of his career as a DH, but mark my word there will also be a Latin movement to put him in and it will eventually get done.
Lee
February 7, 2009
Hi!
I love your site and the idea behind it. I grew up in Seattle and saw Edgar back in the old Kingdome days when you could walk up and by a cheap ticket for $7 or so. I remember he was not a bad fielder at all. It was just natural to move him to DH.
Do you have any plans to help Edgar get inducted. A mailing list of the hall Of Fame Voters would be nice so we could all address it with them and ask them to look seriously at his offensive and defensive numbers. Solicitation of Bud Selig, who obviously supports Edgar, may provide a number of influential, like minded Edgar fans, who might sign a petition or make a statement to your site that could be posted there, endorsing your efforts.
Good Luck! Edgar esta caliente!!!
Here's to friendship!

Michael B
September 22, 2008
I really think Edgar Martinez should be in the Hall of Fame,and I am glad Goose Gossage got in.
Joanne in Missouri
August 21, 2008
I finally met Edgar Martinez and had some pictures taken with him.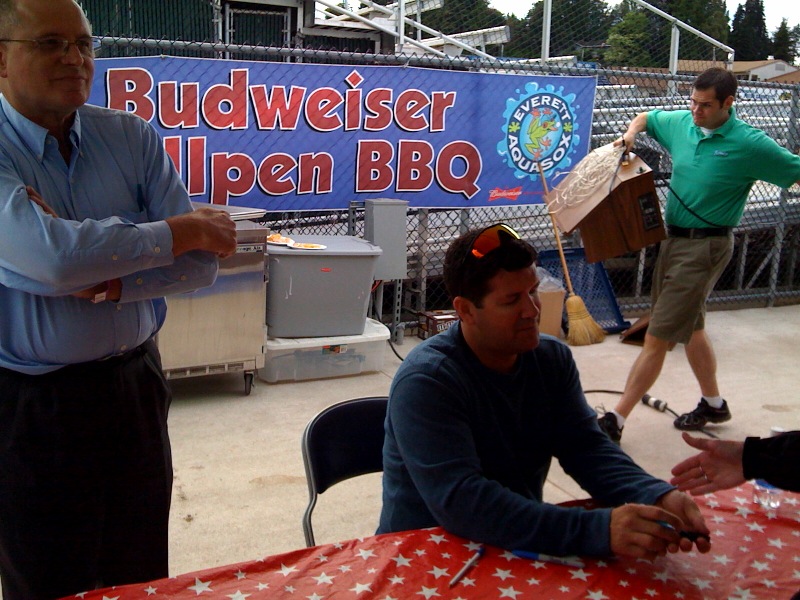 I was not really Edgar's bodyguard, it just looked that way. I was actually waiting for Jackie to get her autographs signed. My hair is shorter than usual because I had it buzzed on Buhner Buzz Night 2 weeks before as part of a promotion to get hair contibuted to Locks of Love and Pantene Beautiful Lengths.
The next picture is of my grandson Dean, and his daddy, my son-in-law Steven, with Edgar. My new grandaughter, Moira was only 10 days old, so she and her mommy and daddy couldn't meet Edgar.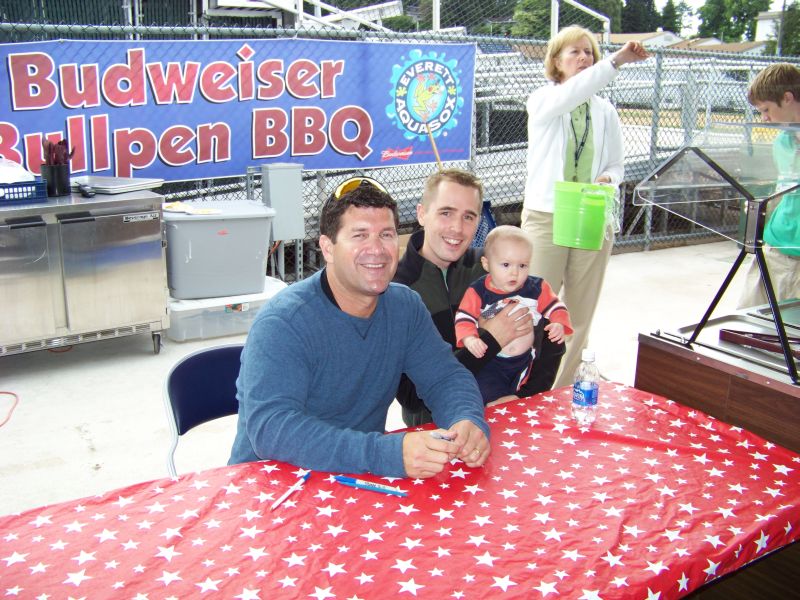 March 9, 2008
Yeah, I totally agree with you. Papa was my favorite Mariners player (just too bad he never could get a World Series ring). It's too bad he had to be injured all those times, but even through all that he still managed amazing stats and in the process got an award named after him. Hopefully in 2010 when he's first eligible people will have realized his accomplishments and induct him. I'm also glad you made the site so people can easily see all the things he's done, even off the field. Keep the campaign up!

Nate Clow
Also, I should note that the M's don't officially retire numbers unless the player is in the Hall of Fame and played at least five years with the club (he's halfway there). They haven't reissued his number to anyone though, same with #'s 14, 19, or 24. They did the same thing with #51 until Ichiro asked to have it. Hopefully he'll get in!
November 4, 2007
Hi.

I came across your site via Baseball-Reference. I could not agree with you more. Edgar belongs in the hall! I grew up in Chicago and remain a Cubs fan, but lived twenty years in Seattle (1983 - 2003) and had the pleasure of watching Mr. Martinez play many, many times - from the Kingdome to Safeco. And come on - how about his commercials when they first opened Safeco..."We're playing outside today"...loved it!

Keep up the great work...

Michael
June 28, 2007
I fully support the placement of Edgar Martinez in the hall of fame. Out of all the Mariners, he is the most deserving of this honor.
Ciao
Terry
June 22, 2007
I just read your article supporting Edgar into the Hall of Fame. I want to say, I am behind you 1000%!!! My boys and I had an AMAZING opportunity on June 3, 2007 to meet Edgar and get many items autographed including items from the night before on his induction into the Mariners Hall of Fame. We were staying at the same hotel that his best friends from Puerto Rico were staying. They knew how much it meant to me for my boys to get to meet him in person. They called him while he was working out at the gym in Bellevue and asked if he would come by the hotel so we could meet him.

Edgar showed up about 30 minutes later on his yellow Harley!!!! WOW!! He is such a nice man. He went out of his way so two little boys could meet him. I have many many pictures of course to remember forever this GREAT MOMENT in our lives! Just wanted to share a little with you!!! I will attach a few photos. I am very proud of these photos and will cherish them forever...... so will my boys.... who are huge baseball fans. They play little league themselves. Their names are Isaiah and Elijah.My name is Sharon and my husband is John and we are from Richland, WA..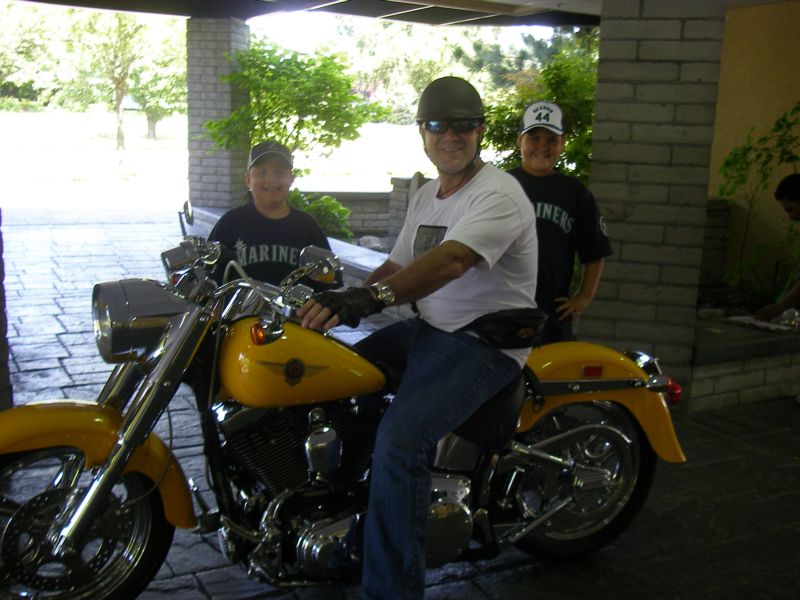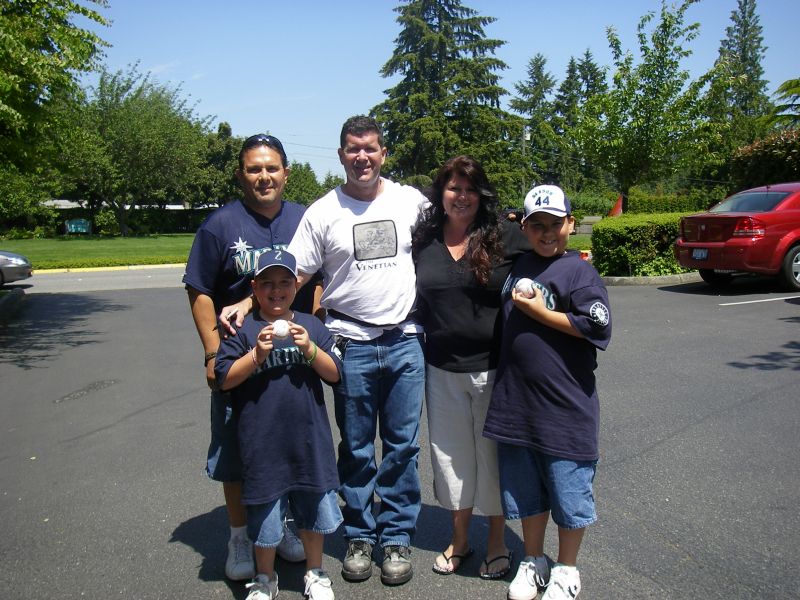 I also included the picture of his friends from Puerto Rico who were in town for his special night and made it possible to meet him.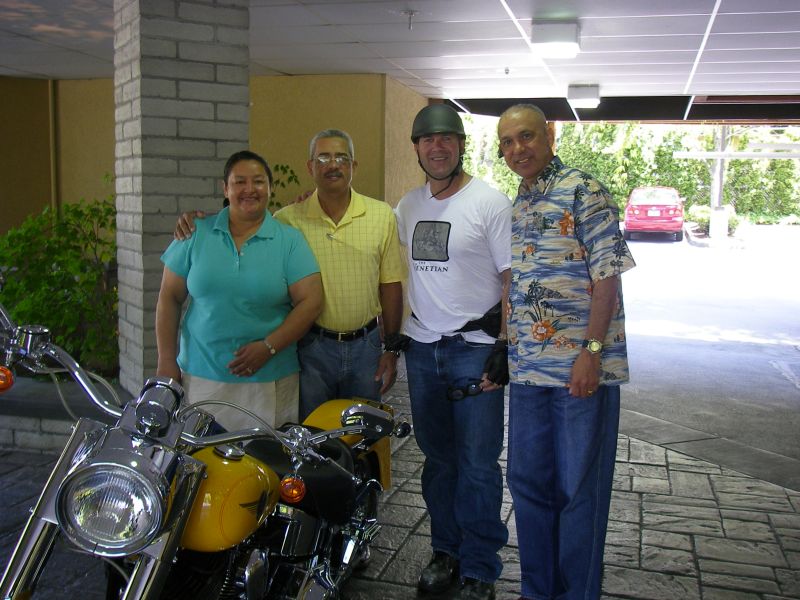 June3, 2007
Please include us in the list of supporters for getting Edgar inducted into MLB's Hall of Fame.

Thanks,
Mike, Debbie, & Stephanie Bellinghausen
Bothell, WA
June 3, 2007
You have my vote! His numbers are very clear, as is his character. He is an outstanding individual on and off the field! Even Joe Torre thinks so! Thanks for the campaign.

Amy Wood,
Tacoma, WA
May 27, 2007
Hey,

I want to show my support for Edgar in the Hall of Fame. He is one of the greatest hitters of all time. The things he could do with his bat were just amazing.
Phillip Anderson
May 9, 2007
Hello Abarim,

I am so glad that I ran into your web page. I'm a huge baseball fan (Yankee fan especially) and I've always thought that Edgar Martinez was a really good hitter. I just never realized how great of a hitter he really was until I read your comparison of Edgar Martinez to the other Hall of Fame greats. Just the mere fact of being mentioned with names like Ruth, Gehrig, Hornsby, Williams & Musial say a lot about a person.

I have always wondered who are the players that are in the Premium Offensive Player (POP) Club and how many are there and thanks to you now I know. I just never knew that Edgar Martinez was one of them, not to mention that he also has 2000 hits, 300 home runs, 500 doubles, and 1000 walks to go along with his (POP) numbers.

As you pointed out in the beginning of your website, if MLB didn't think that Edgar Martinez was a great player, why would they name the Designated Hitter Award after him, that right there speaks a thousand words.

In my opinion Edgar Martinez is a Hall of Famer in my books and I hope that the Hall of Fame committee sees it as well. I really do hope that this helps Edgar Martinez out in getting him inducted to the Hall!

Good Luck and Best Wishes,
An Edgar Martinez Supporter
Kermith Alayon, Brooklyn, New York

March 1, 2007
I support the induction of my favorite player of ALL TIME, Edgar Martinez for the Baseball Hall of Fame.

Sincerely,
Mary Ann Fergusson
February 17, 2007
I am just a fan of baseball and have been all of my life-I am now 80 years old and have been a Mariner follower since they started playing. My vote won't count for anything but I have never liked any player more then Edgar and for all of the reasons you have mentioned.Thank you for starting this campaign-he deserves to be in the Hall of Fame for so many reasons but when one looks at his stats-he really belongs.
I wish that I could do something but just wanted you to keep up the "work".
Sincerely,

Sue Elliott
Delta B.C.
February 5, 2007
I would like to see Edgar inducted into the Baseball Hall of Fame. His stats and devotion to the game have earned him that privilege.

Carol Hegstrom
Port Ludlow, Washington
January 26, 2007
I don't know when you created this web site, but I have to say that I totally support Edgar for the Hall of Fame. It would be a shame if someone of Edgar's talent and calibur didn't get in. Just because he was a DH doesn't mean he didn't contribute because, after all, he hit THE Double heard all-round the world.
Good Luck
Rob Skinner
September 22, 2006
I definitely believe Edgar needs to be in the hall. I watched him play live from day one and he is bar none the finest pure hitter of all time. He brought presence, confidence and sweetness to the plate. His stats say he needs to be in the hall, he played a thousand less games than cobb, his stats would have been rediculous if he would have stayed. molitor's in the hall, why not edgar?

Andrew Owen
Bend, Oregon
July 25, 2006
Edgar is by far my fave player of all time, he is my idol....He deserves more than most players I've watched recently to be put inducted into the hall of fame. I have attached a picture to show you just how much of a die hard fan I am of not only the Mariners but of Edgar. I would also like to ask if at all possible if there was a way that you could get the picture to him. Thank you I hope he gets in.
Teresa Darland
And here is Teresa's picture: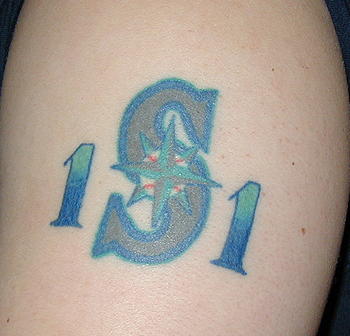 December 13, 2005
I think what you guys are doing is great not only for the Latin sports community, but for sports fans in general. It is important that we don't forget guys like Edgar, because so often guys like him get overlooked or forgotten due to their low-key personalities.
In an era where the big-name athletes rule the headlines and remain popular with sports fans, it was refreshing see a guy like Edgar go about his business with class and dignity throughout his career in the Major Leagues. I see the same qualities in Bernie Williams of the New York Yankees.

Please continue in your quest to get Edgar into Cooperstown and good luck.

-Keith Figueroa
September 30, 2005
I agree, Edgar Martinez is one hell of a great ball player, and
outstanding human being. He unquestioningly deserves to be in the
hall of fame and to not induct him would be criminal. I used to
live in Seattle and watching Edgar do his thing was always wonderful.

Now I live in Boston and I get to watch another rising star in the DH
position, David Ortiz. I think even Ortiz has said that he considers
Edgar to be one of the finest players ever and the one he aspires
to himself.

Good Website

William
August 2005
Robert Hackney supplied this photo of Edgar at the TPC Snoqualmie Pro Am in August of 2005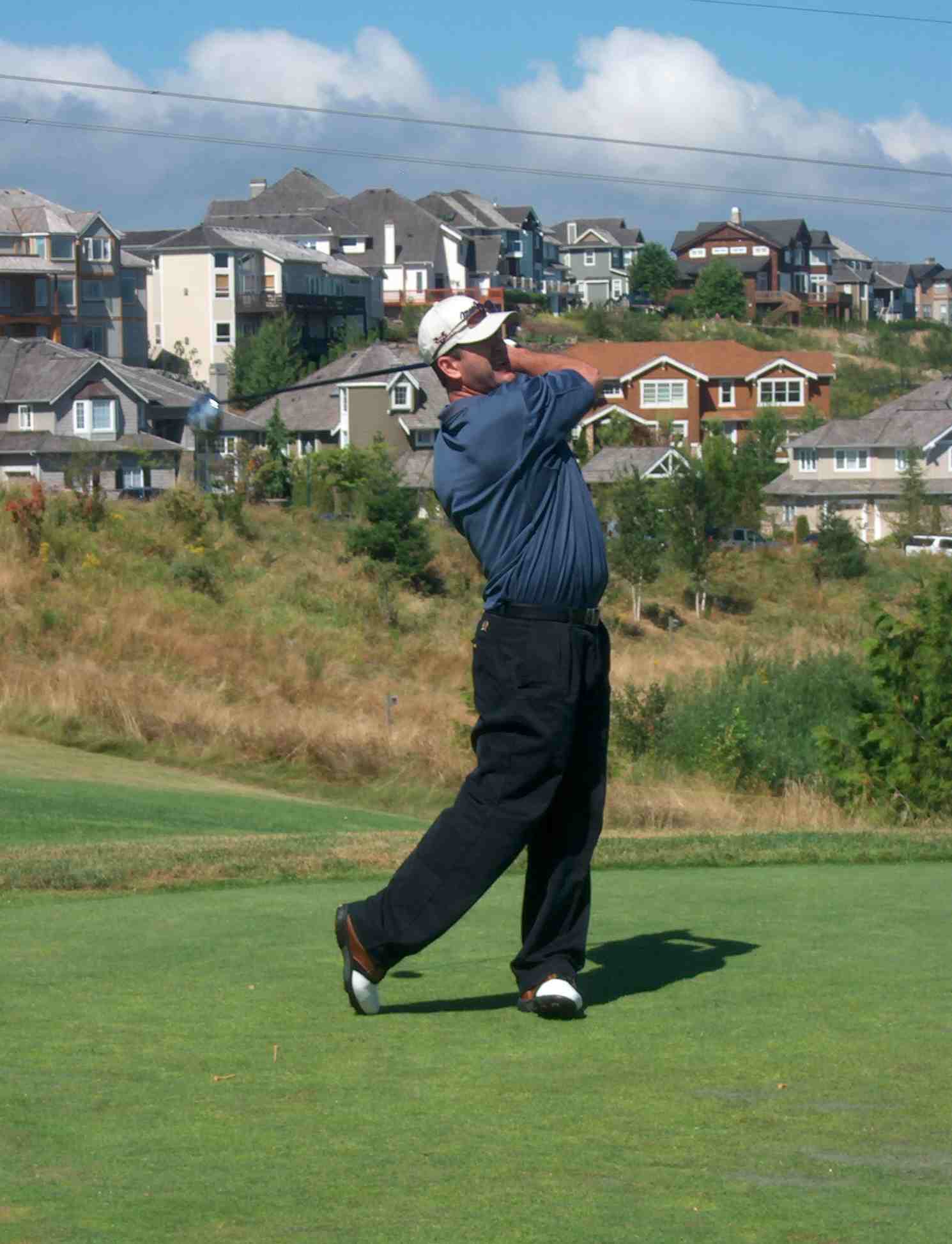 August 24, 2005
I fully support the induction of Edgar Martinez into the Major League Baseball Hall of Fame. He is what other players can and do look up to in terms of both conduct and on-field performance.
Mark Suryan
Mariners fan
Seattle, WA
July 21, 2005
YES!!!!!!!!!!!!!!!!!!!!!
EDGAR MARTINEZ IS THE GREATEST!!!!!!!!!!!
THE MARINER'S ARE NOT THE SAME WITHOUT HIM!!!!!
A LOYAL EDGAR FAN
CHARLENE MALING
SUNNYSIDE,WA
April 18, 2005
Reading what people have to say about Edgar brings tears to my eyes...as did watching him play his last game. I have to admit their is an emptiness when I watch a game now, I've found myself looking...and then realizing...
My love of baseball began on a trip to Seattle to watch the M's when my son was in third grade. Edgar Martinez??? never heard of him...and the thought of sitting through nine innings....OMG, what would I do?...
I still have my ticket, placed in my son's scrapbook...a day I'll never forget!
I've attended Opening Day for several years and living two and a half hours from Seattle have found it hard at times to make the trip...as many fans have done over the years, when given the opportunity...you drive through rain storms just to sit through "nine" innings of baseball!
My collection of Edgar's career is interesting...of course I have his Rookie cards...and over 200 others...any my family has been wonderful as they have given me three 8X10 photographs matted in frames and autographed (with the COA), PT Cruisers, mouse pads and the list goes on...but one piece of Edgar I will carry with me for the rest of my life....
I was in Seattle with my parents in "2000", my Mother had Cancer and was having surgery...the first evening as we settled into our room I opened the curtains and was looking at the city...I discovered just across the street...a tattoo parlor. I looked at my Mom and smiled...she was very ill and couldn't go as we had planned to do before she was diagnosed...I grabbed my credit card and off I went. With my Mom watching from the room...I entered the tattoo parlor. Looking around and not seeing anything I really liked I asked the man if we could just design something...he says sure, what ya got in mind? lol
Showing him on paper...he looks at me like I'm crazy...he says a "M's" fan are ya?...Sure I say...but Edgar Martinez is my guy. He chuckles...and finishes the design...I sit through three hours of pain and keep thinking about my Mom and of course Edgar...and when it was done I had the most spectacular memory of my life. On my left ankle is a tattoo of the best DH in baseball...and a special memory of my Mother, as she passed away August 31, 2003.
My attempts to meet Edgar were never successful...and you would think that a woman carrying a life size cut out on Edgar Martinez Day would get some attention!...I'm not even sure if I did see him that I would be able to keep my knees from giving way...but I know that the tears he would see in my eyes would let him know that he has touched a life...what a remarkable man he is...not only in baseball, but in life. I don't know all his numbers and to be honest I get a bit confused with averages and so on...but I do know he is more than deserving to be inducted into the Hall of Fame.
E
D
G
A
R
This picture is for you....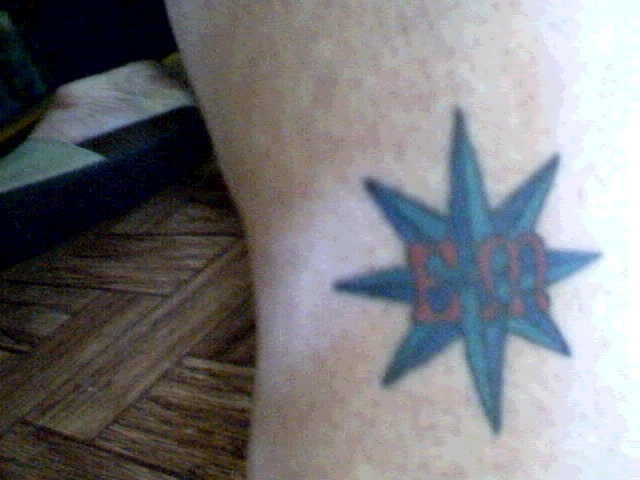 Kim Nelson
March 4, 2005
Hello,
I have been a huge Edgar fan and I was at the game against Texas
that we got to celebrate his wonderful career with him. He will be missed
this season by all true Mariner fans. As for the Hall of Fame, I don't see
how they can keep him out. Just let his numbers speak for him. He has been
one of the greatest and most underrated hitters in all baseball for his
entire career. It makes me a little angry when they talk about players like
Darryl Strawberry and other drug addicts possibly making it and not Edgar.
Not to mention some of the ones that already have the honor that don't
deserve it. You may add my name to the supporters of Edgar getting into the
Hall. Thank you for getting this site up and your efforts on his behalf.
Gary Rhotehamel
Renton, Washington
October 7, 2004
We can't add anything to the statistics other folks have already sent to
you, but we can add our names and our votes for this very worthy cause.
We have been fans of Edgar for many years, and in fact, find it hard to
feel as much enthusiasm for the team knowing he will not be with them any
longer. He is definitely deserving of every honor MLB can bestow upon
him.
You may recognize our names, since we bring our computers to you when
they need some attention! We're glad to know you are also an Edgar Fan!
If there is ever any way in which we can add our support to the campaign
to gain the recognition Edgar so richly deserves, we'll be glad to join
in.
Sincerely,
Louise and Jim Nikkel
October 5, 2004
You may use any of my comments. Another point should be there are no Designated Hitters in the Hall of Fame. How are we to compare Edgar when there is no DH to compare him too. All other positions are compared to their respective position. WIth that formula in mind then Edgar should be the first and his stats should set the bar for all other DH's to compare. Additionally, the DH has been around long enough to warrant it as a valid position.
Edgar is a class act and the greatest Mariner ever. He should be the first Mariner to go into the Hall and I will be there the day he does. I would even bet many Seattle fans would go to his induction and start chanting Edddd-Grrrrrr!!!!!!!
I am not sure if you attended but Saturday night at Safeco the tears were flowing, to include my wife and myself. We had a great time. I only wish the M's would put out a DVD of the entire Ceremony. I have contacted the Mariners regarding this and they said the DVD available on Oct. 11th will have some highlights, but not entire . However, I would like to buy a copy of the entire ceremony. I have even contacted the Network that broadcast the ceremony, but have not heard from them.

If you would like any assistance in campaigning let me know. I would gladly lend a hand.
Thanks,
Tony Warner
February 19, 2004
To whom it may concern,
I already knew about Edgar as a baseball player and his accomplishments. Two weeks ago I had the opportunity of a lifetime. I actually got to meet him in person. I was working in the Caribbean. Edgar, his wife and son pulled up in their beautiful yellow speed boat and stayed at the resort I was doing work for. I was introduced to him and I must say, I have nothing but total respect for this man. He is humble, sincere and polite. After our conversation, I had asked if I could get a picture with him. Without any hesitations, his wife took my camera and I have a picture of a lifetime. Although I am a loyal Tigers fan, I now have a personal favorite in a player. As for the HOF, he had my vote before I met him.

Dave Pienta
Grand Rapids, Michigan
October 25, 2003
Hi,
There should be no doubt in anybody's mind that Edgar Martinez should be put
in the Hall of Fame after he retires. Just because he doesn't play the field
doesn't mean that he doesn't have talent. Also, I don't know of any pitcher
that got into the Hall because they were an excellent fielder so why should
fielding all the sudden be brought in as the deciding factor for him. And
there are a lot of other position players that were mediocre fielders but
were still elected into the Hall. Furthermore, the DH has been part of the
AL for what, 20 something or more years, so its not like its a new thing in
baseball...and he's done it for the past 10+ years. And what about closers
in the Hall? They're also one-dimensional but they job still requires
talent. He certainly deserves the honor, if not for his talent than for his
character and for being such the great person that he is. I don't see any
reason why you couldn't like Edgar.
Thanks
Dan Hennig
Connecticut
August 11, 2002
My thought is simple-- and that is that somebody has got to be the first DH to make the Hall... I think that Edgar's everyday skills once upon a time make a good case for the fact that he's not an all stick no glove guy ... Instead to put a positive spin on it, Edgar became the extraordinary hitter that he is early in his career as an every day player... His purely DH years are a bonus...
Whatever the case I'm working on the angle that Edgar has, based upon 1,724 games, amassed 1,936 hits, 1,094 BB, 1,085 runs scored, 1,074 RBI's..... Somewhere, embedded in this mass of productive numbers is proof that Edgar's offensive production during the course of his career has been virtually unsurpassed... I'm no mathematician, more of an amateur historian, so any help on achieving the full advantage of this statistical angle is more than welcome.. (I'm thinking along the lines of "per game played Edgar has had at least 1.2 hits, .85 runs, .85 RBIs and .85 runs scored" (something like that)...
Let me just finish today by saying that my Grandma Leebrick, mother of three all-star high school and two college All American pitchers (NAIA) became a huge Edgar fan when she moved from Denver to Tacoma in the 1980s... Toot, my Grandma, was quite a talent scout, having been a baseball fan from the 1930s, and she regarded Edgar as "the bomb"!
Thanks for your work in this endeavor, I'm sure I'll be in touch.

Richard
May 29, 2002
My family and I really enjoy watching Edgar play ball.He is truly one of the best roll models for young people. He one of the greats in baseball and I believe he should be in the hall of fame.Just because he doesn't play out in the field doesn't make him any less of a hero than the rest. there are many of times he has saved the game with rbi hits in the last inning.He is a gentleman in every way. I have never seen him lose his cool, nomatter what the call was.Hats off to him!!
The Hell Family
May 11, 2002
Edgar Martinez is the best right handed hitter of the past 50 years and his numbers back that up. He is one of only 7 righties with at least two batting crowns ever. His six consecutive seasons with at least a .320 avg., 20 HR and 80 RBI is something that only Ted Williams has also done.
His career average numbers per 162 games played: .318 avg., .425 OBP, .529 Slg., 25 HR, 101 RBI, 102 R, 103 BB, 182 H, 43 2B.
Prior to the 1996 season Kirby Puckett, a very good hitter in his own right, said, "Edgar is the best right handed hitter in the game today...no doubt in my mind."
The Hall of Fame voters must remember that he was an All-Star third baseman before Pinella moved him to DH to ensure he would be in the lineup as much as possibe. Even though he is a DH, he is the greatest DH ever and should go into the Hall of Fame.

Shane Nicholson
Sycamore, IL
May 6, 2002
To Whom it May Concern:

My name is Denice Krueger. I live in Tacoma, WA. I have been watching Edgar play for the Mariners for years. I believe that Edgar is the greatest hitter in all of baseball, and the best designated hitter of all time. Edgar is a model sportsman, one of the gentlemen in the game of baseball. One of the things that I admire most about Edgar is his devotion to the game, much like several other legends of baseball. Edgar has been a key factor in building the Mariners organization into one of the most competitive and feared in the game. Even through the years that the Mariners were a below average team, Edgar was always consistent in his outstanding performance. In summary, my family and I believe that Edgar is extremely deserving of a seat in the Hall of Fame.
Best Regards,
Denice Krueger
May 1, 2002
I think that you should also talk to the Vatican about canonization -> St. Edgar. He
He is the greatest DH and a wonderful human.
Len Quadracci - Seattle WA
April 26, 2002
I've been watching and enjoying Edgar and his hitting since he was "stuck" in Calgary. He should have been up with the M's at third base or wherever several years before he finally was called up. Some kind of politics regarding Jim Presley and Darnell Coles kept him out of the majors. He is a SUPER hitter as his stats will show. He is also a fine person which is not always the case in some other people who were voted into the hall in past years; i.e., Ty Cobb for one.
Go Edgar!
Your fan,
Sherill Anderson
April 23, 2002
A special hello to the rangers at Hurricane Ridge in Olympic National Park. Thank you for the words of encouragement. You bet that we will continue talking about Edgar until Edgar is elected into the Hall of Fame, or the media regard Edgar as a consensus 1st ballot choice.
June 7, 2001
I have been a Mariners fan since 1989, and I have seen no one grow as a
hitter faster, and better than Edgar Martinez. Watching him hit is like
viewing Picaso painting, or Garth Brooks performing. No one takes more pride
in it, and no one does it better!
I just wish the Mariners would have done better earlier in his career so he
would have had the exposure which he deserves. Edgar played almost his whole
career in the shadows of Griffey and A-rod, but I think now people are
getting a chance to see what he can do as a leader.
When he ends his career, barring any injuries (God forbid) he should have 300
homers, 2500 hits, two batting crowns, and a whole lot of Doubles. And
hopefully a world serries ring to go along with it.
If the Baseball voters are listening, don't overlook what this man has
accomplished, he deserves to be a first ballot hall of Famer. And not just
because of his numbers, but because of how he represents the game.
Any time you see a Mariners game brodcasted tune in, its a chance of a life
time to view the greatest pure hitter ever to play the game. Just watch as
he takes a 0-2 inside slider and smashes into the right center gap for a two
run double.

Jim Shier"
The following piece was written by:
Will Gonzalez, Baseball Columnist from Philadelphia.
The piece appeared in the
Community Focus/Enfoque Comunal edition of 12/20/2001.
"¿ES EDGAR MAS QUE EL MEJOR DH DE TODOS LOS TIEMPOS?
El Boricua sigue colectando el premio de Designado del Año pero. ¿es eso suficiente para llegar a Cooperstown?
Por Will González
El pasado martes, Edgar Martínez de los Marineros de Seattle fue nombrado por la Oficina del Comisionado del Béisbol el ganador del premio Bateador Designado del Año en las Grandes Ligas.
Martínez bateo para .309 con 22 HRs y 115 RBIs como bateador designado la temporada pasada. Su porcentaje de llegar a base fue .421 en 463 turnos en 127 partidos.
Setenta y dos de los 76 cronistas deportivos que eligieron a Martínez lo colocaron primero en sus papeletas.
Manny Ramírez de los Medias Rojas de Boston (333, 23 HRs y 80 RBIs en 87 desafíos como designado) termino segundo en la votación.
Las Grandes Ligas ha otorgado el premio de DH del Año desde 1973 cuando la Liga Americana adopto la regla que permite que otro pelotero tome el turno al bate del lanzador. 'Peruchin' Cepeda fue el primer DH en capturar el honor.
Sin embargo, no hay otro pelotero en la historia que ha dominado el arte de ser DH como Edgar Martínez. Esta es la quinta ocasión que el bateador derecho de 38 años recibe icho honor.
Su promedio de bateo como Designado (.327) es el mejor de todos los tiempos. Su colección de carreras impulsadas (785) y HRs (193) lo colocan cuarto y quinto respectivamente en la lista de todos los DHs.
Por ahora, entonces es fácil llegar a la conclusión de que Edgar si es el mejor DH en la historia. La pregunta mas difícil de contestar, sin embargo, es: ¿Eso es suficiente para que Martínez sea exaltado al Salón de la Fama?
Un grupo de fanáticos de Seattle dicen que si y ya empezaron a empujar la idea.
No, Martínez no se retiró del béisbol. Una de las precondiciones para ser elegible a Cooperstown es haberse retirado cinco temporadas antes de la votación.
A Martinez le queda por jugar una o dos temporadas mas.
Pero los diseñadores de Abarim Computers en la ciudad de Edmonds, al norte de Seattle, en el estado de Washington, no quieren esperar.
Ellos reconocen que Edgar tendrá que superar prejuicios entre algunos de los cronistas que tal vez consideren que un pelotero debe de haber tomado mas a menudo el terreno con su guante para ser inmortalizado en el Salón.
La evidencia que presentan esos cyber detectives no será fácil de ignorar. En su pagina Web (http://www.abarim.com/edgar.htm) los amigos de Edgar demuestran que Martínez ha sido tan bueno con su madero que su falta de no usar su guante mas a menudo no lo debe de perjudicar.
El autor de la pagina Tim Raetzloff dice: "Hasta los fanáticos mas grandes de Edgar no saben la calidad de pelotero que Martínez es en el contexto de la historia del béisbol." De todos los bateadores que han jugado en las Mayores, Edgar esta entre los únicos 17 que
fueron mas de 5,000 veces al bate y copilaron un promedio de bateo de por vida de mas de .300, un porcentaje de llegar a base de por vida de mas de .400, y un porcentaje de 'slugging' de mas de .500. De los 17, Barry Bonds, Frank Thomas, y Martínez son los únicos tres peloteros que aun están activos. Trece de los demás 14 están en el Salón De La Fama. "Shoeless" Joe Jackson es el único de ellos que no recibió el honor. Jackson es persona non grata en el béisbol por su supuesta colaboración con apostadores.
Raetzloff concluye su presentación con una exhortación a que otros fanáticos se unan a su grupo y su misión. Aquellos interesados en hacer contacto con Raetzloff pueden hacerlo usando su dirección electrónica: abarim_webdesign@abarim.com.
Negarle a Martínez exaltación al Salón porque la concentración de su carrera fue en ser DH seria una gran hipocresía. Gústele a uno o no, la regla es parte oficial del béisbol Mayor. En el 2003, justo cuando Martínez se preparara para su retiro, la regla del DH cumplirá su trigésimo aniversario.
La grandeza del cielo es lo que hace imposible que se tape con la mano. Cuando Edgar se retire, esperamos que el brillo de sus números sea tan reconocido que tampoco se puedan tapar, ni sus logros ignorar.
Martínez si es mas que el mejor DH de todos los tiempos. Él va en buen camino de ser el primer bateador designado en ser exaltado al Salón De La Fama."

September 23, 2000
Thanks to Ryan Gronberg and Steven Davis, I had the good fortune to be a Safeco Field last night in great seats to watch Edgar Martinez send a double down the left field line and score ARod from first base. Just a bit of deja vu, except that the hit didn't win the game. But that hit did produce Edgar's 137th RBI of the 2000 season. Edgar is 37 years old and only one other player in history has driven in that many runs at the age of 37 - Babe Ruth, The Bambino. And as I find time to write in this space I will tell you why I believe Edgar deserves to be mentioned in the same breath as Ruth, Williams, Gehrig, Foxx, Thomas, and the other all time greats of baseball. The end of the season is just a week away, and at that time I will check Edgar's lifetime stats and see where he measures up to the greats. I can tell you this, at the end of 1999, Edgar had the 10th highest On Base Average of all time. I got that information from Lee Sinins at SABR. Edgar was also in the top 20 all time for combined On Base Average and Slugging Percentage. And Edgar was one of only 16 players in history to have a Batting Average over .300, an On Base Average over .400, and Slugging Percentage over .500. I got those numbers from ESPN. Of those 16 players, 13 are in the Hall of Fame, 2 (Edgar and Frank Thomas) are still playing, and the last (Shoeless Joe Jackson) is a baseball pariah. That is pretty powerful company that Edgar's bat travels in. My research tells me that one other current player has moved into the .300, .400, .500 club; but he is just barely in and seems likely to fall out again. He will be a Hall of Famer anyway and doesn't need my help to press his case. Enough for today. I will write more another day.
Tim Raetzloff (when I began this web site)